The Foreign Office mentions "peace and security, the promotion of democracy and human rights and the commitment to multilateralism" as the guiding principle of German foreign policy on its website.
Only a few lines later, however, it is said that Germany, as a trading nation, has a particular interest in an effective foreign trade policy "that helps companies open up international markets and improve business conditions".
So what happens when these two basic principles collide?
A famous "selfie" by Syrian refugee Anas Modamani took from herself and Chancellor Merkel in 2015
It is perhaps no surprise that the German government welcomed the mass protests and the pursuit of democracy in the so-called "Arab Spring" – even if this movement by and large ended in failure and frustration. In addition, it is the order of the day for German politicians to condemn human rights violations in Arabic-speaking countries, including torture, the imprisonment of opposition members and the oppression of women.
Germany also took in around 770,000 Syrian refugees and provided many quick and unbureaucratic help in a time of great need and need.
At the same time, however, Germany has worked hard to establish trade ties with countries like Egypt and Saudi Arabia. Countries that Germany should perhaps really avoid given its human rights record. And above all, representatives from business and politics are all too often prepared to ignore the lucrative trade in armaments. And worse, say critics.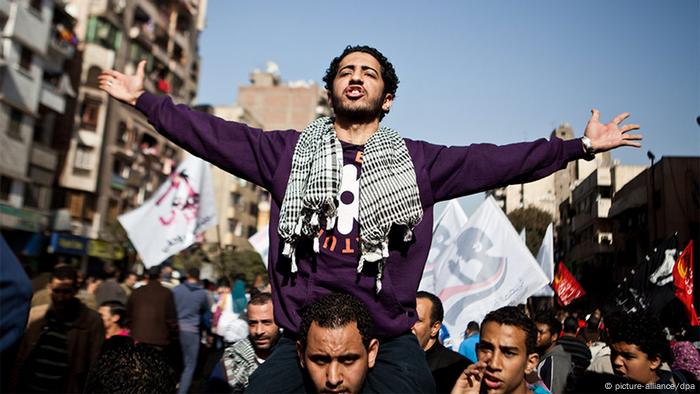 During the "Arab Spring" in 2013, thousands of demonstrators took to the streets in Cairo
Dramatic effects on domestic politics
Due to the high number of refugees alone, the importance of the Middle East relationship for Germany's vital interests can hardly be underestimated, says Guido Steinberg, regional expert at the German Institute for International Politics and Security. "In 2015 we saw how the events in the Middle East as a whole, including North Africa, can have a dramatic impact on the domestic political situation in Germany," Steinberg told DW.
According to Steinberg, Germany must define its interests more clearly. He outlines three priorities. First: preventing the further proliferation of nuclear weapons in the region. Second: Avoiding large flows of refugees by strengthening regional stability. And third: an effective anti-terror strategy.
Kerstin Müller, Middle East expert at the German Foreign Office, also calls for a "more robust approach to the Arab world". In an interview with DW, she mainly questioned the reasons for arms sales in the United Arab Emirates: "The United Arab Emirates are Germany's largest trading partner in the region. Both sides even maintain a so-called" strategic partnership ". Deep in the Yemen war it can still get weapons from European and German sources. "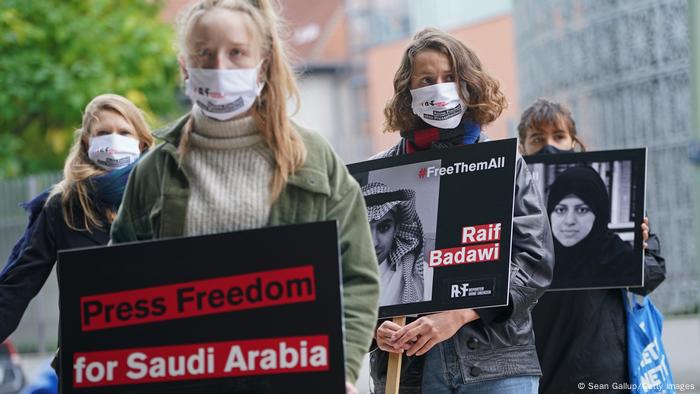 On the anniversary of Jamal Khashoggi's death, activists are protesting against the imprisonment of blogger Raif Badawi in Saudi Arabia
Exports worth billions
Apparently, Germany has few inhibitions when it comes to arms deals with questionable partners. That emerges from a statement by the Ministry of Economic Affairs at the beginning of this year on a question from the Greens.
According to a statement, the German government will have the green light in 2020 for arms exports worth around 1.16 billion euros (1.36 billion, Bahrain, as well as NATO member Turkey.
Kerstin Müller is also very critical of possible deals with Saudi Arabia, which have been temporarily put on hold – a measure that, according to Müller, should have come much earlier: "After the murder of journalist Jamal Khashoggi, Saudi Arabia came under a lot of pressure a moratorium on arms deals has been imposed, "she says." In my opinion, its role in the Yemen war, or even its worrying human rights record, would have been enough to ban arms shipments to Saudi Arabia.
The Berlin armaments policy is not only inconsistent, it also violates its own guidelines for arms exports, which prohibit the delivery of armaments to so-called third countries in times of conflict or crisis – defined as neither EU nor NATO members (or "NATO equivalent", like Australia).
Meanwhile, there is growing pressure in Germany to rethink the country's Middle East policy.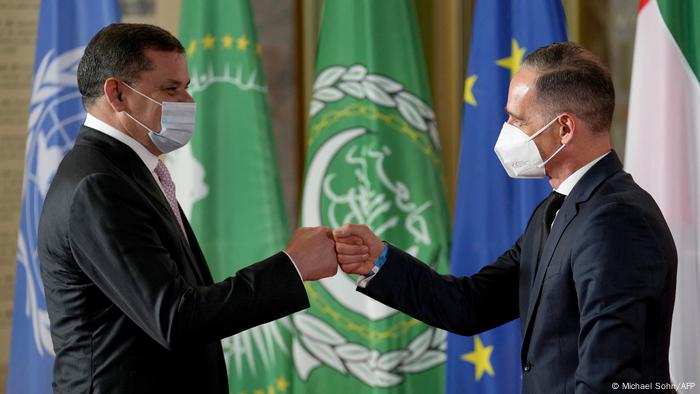 Federal Foreign Minister Heiko Maas (r) welcomed the Libyan Prime Minister Abdul Hamid Dbeibah at a peace conference in Berlin in June 2021
Time to take on more responsibility
Germany is facing a tense parliamentary election at the end of September, which will also mean the end of Angela Merkel's 16-year term as Federal Chancellor. Whoever emerges as the next leader will have a lot to do in dealing with the USA, which is keeping up the pressure on Berlin to play a more decisive role on the international stage.
It is likely that Germany will take on more and more responsibility – also in the Middle East, where it has so far played a subordinate role as a conflict mediator, for example in Libya.
New source of voltage: extreme weather events
With climate change, the global community is facing an unprecedented existential challenge that can only be contained or fought if markets and morals complement one another. As in so many parts of the world, the Middle East is threatened by an increasing number of extreme weather events, which Stefan Lukas describes as an "accelerator for existing problems". He fears that the region will be further destabilized and that more and more people will be pushing to join the many refugees who are already trying to get to Europe.
"And of course that poses a big problem for us. If we tell Libya, Saudi Arabia or the United Arab Emirates to leave their oil in the ground, they will not be amused. After all, most of their income comes from fossil sources. " Sources of fuel, "warns Lukas, lecturer at the command academy of the German Armed Forces for the Middle East in Hamburg
Stefan Lukas says that there is no alternative to aligning markets and morals: "The bottom line is that it is both a moral and an economic imperative for Europe to give Middle Eastern countries new options and new incentives, including economic ones help. "
Climate change could become a "path to multilateral peacebuilding".
He outlines an ambitious vision: "A coordinated environmental and climate agreement could trigger a step towards more political cooperation. And that in turn could help us to build a bridge between morality on the one hand and market-driven egoism on the other. "The other."
This article has been translated from German.
On site: Every Tuesday, DW editors summarize what is happening in politics and society in Germany in order to understand this year's elections and beyond. Here you can register for the weekly Berlin Briefing e-mail newsletter to stay up to date as Germany enters the post-Merkel era.